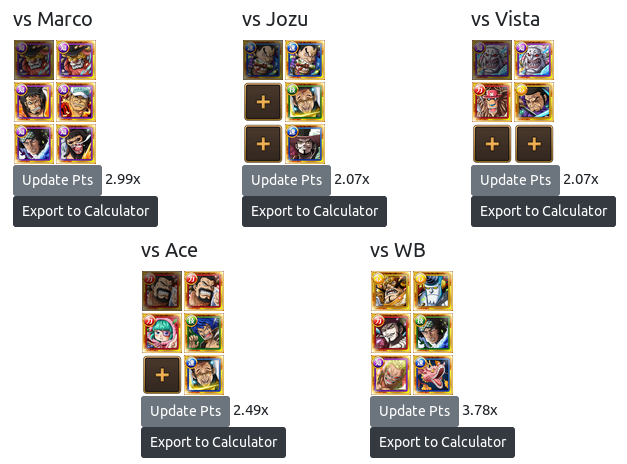 Vs Vista
On Stage 3 your entire team will get paralyzed for 2 turns and get blinded (SFX removed) for 2 turns. Either bring a team that can take a few hits or a paralysis reducer just to be safe.
Vs Jozu
Jozu spawns with 5 high DEF low HP fodders. They each have start at 6 HP and increases as you increase in TM levels.
Vs Ace
This is another of those bosses were fighting in the main map will be better because his HP will greatly increase and as you continue fighting his huge HP will be annoying. Also you have to keep an eye on his death damage because it can and will kill you at higher levels. So make sure that you have a damage reducing unit on your team.
Vs Marco
If it is not obvious you have to beat him in 1 turn. So INT based teams are ideal.
Vs Whitebeard
On Stage 3 upon death the Bazooka guy will put a "Makes Perfects harder to hit" debuff for 99 turns.
Stage 4
Disclaimer the information on Stage 4 Whitebeard is not 100% accurate because the places I used to get this information did not have his stats. So I just looked at TM Whitebeard Level 1 videos to have an idea on what his stats were and went from there. Since each NAV Lvl is just about a 5% increase.
However the Preemptive information is correct. It's just the HP & ATK stats that are not accurate.
Stage 5
Spawns with 3 other mobs that I did not get their HP and ATK values.
Do not bring units that do HP cuts unless you plan on using them in Stage 4 or not plan on using them at all.